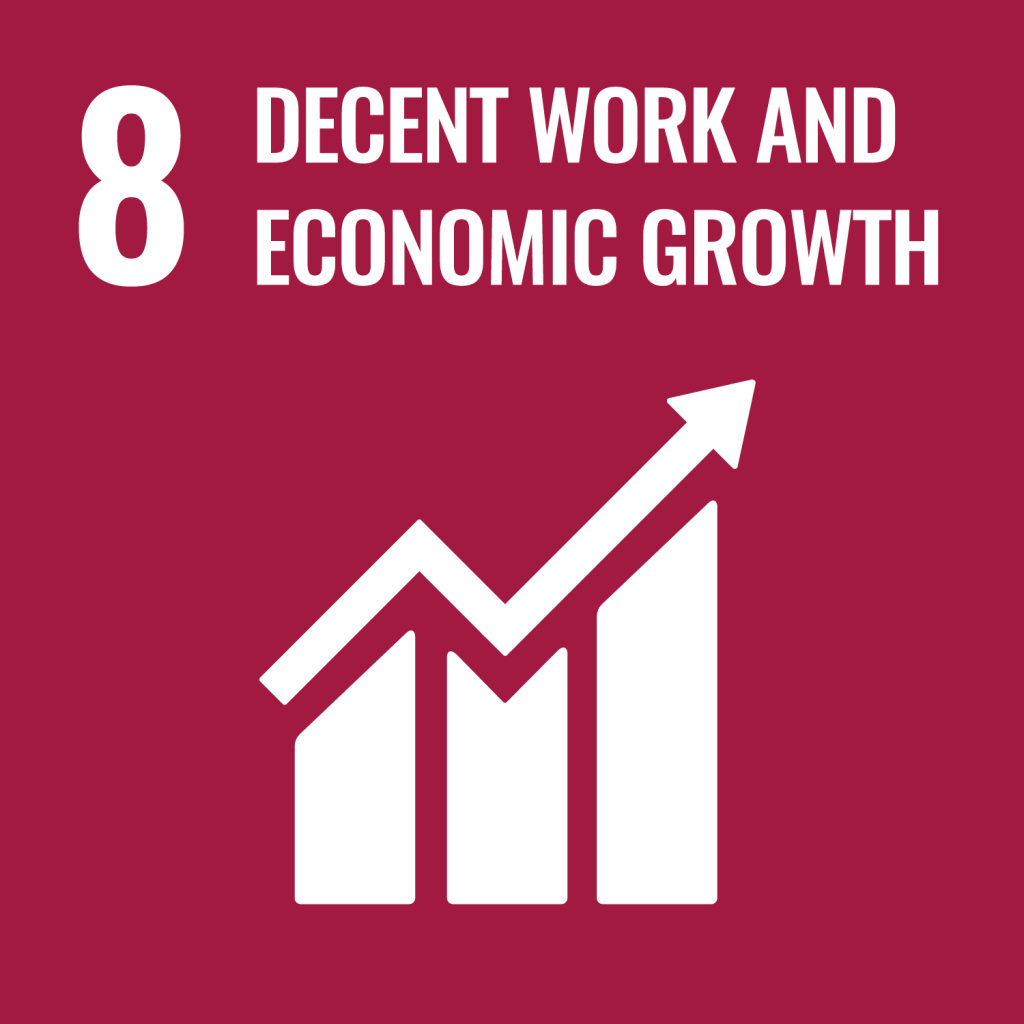 SDG8:
Decent Work and Economic Growth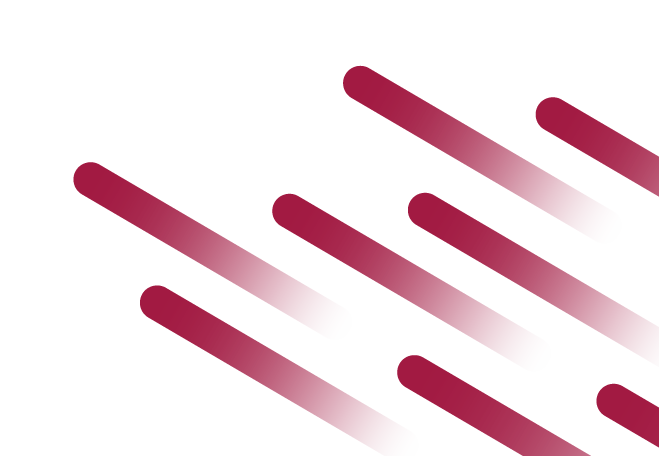 SDG 8 concentrates on promoting sustained, inclusive and sustainable economic growth, full and productive employment, and decent work for all. The global economy is facing multiple challenges that can have a significant impact on growth. The persistent effects of Covid-19, cost-of-living crises, trade tensions, uncertain monetary policies, increasing debts in LMICs and the ongoing war in Ukraine all pose serious threats. These crises not only jeopardise employment and income but also hinder progress in achieving equitable pay for women and decent work opportunities for young people.
The industry's contribution
As a general-purpose technology, mobile improves the utilisation of labour and capital and increases productivity. Studies by the ITU have shown that a 10% increase in mobile broadband penetration causes a 1.5–2.5% increase in GDP.[34] In 2022, mobile technologies and services generated 5% of global GDP, a contribution that amounted to $5.2 trillion of economic value added.[35] In particular, 5G will add almost $1 trillion to the global economy in 2030, with benefits spread across all industries.[36]
Mobile technologies also enable the formalisation of the informal sector. For example, mobile financial services can facilitate more effective monetary policy by shifting currency and assets into the formal financial system. Transferring resources from the informal to formal economy makes monetary tools more effective and supports efforts to achieve macroeconomic stability.
Furthermore, mobile technologies support employment. In 2022, mobile operators and the wider mobile ecosystem provided direct employment to around 16 million people across the world; in addition, the industry indirectly supported another 12 million jobs by stimulating employment in other sectors.[37] Mobile money also creates opportunities for individuals to partner with operators to manage agent outlets, generating an additional source of income. The GSMA estimates that the number of registered agents grew by over 40% in 2022, reaching 17 million.[38]
SDG 8 mobile impact score
Source: GSMA Intelligence
Maximising mobile's impact by 2030
In markets where mobile is the primary way of accessing the internet, increasing the use of mobile-enabled services and platforms for applying and searching for jobs can help to maximise mobile's impact on SDG 8 by 2030. To do this, there is a need to promote digital skills and education across all parts of society. This should be coupled with creating smarter laws to protect personal data, giving people greater confidence to do more tasks online.
Connectivity has become the foundation of various industries and social activities, but the energy consumption of ICT is increasing exponentially worldwide. KDDI completed the shutdown of 3G in March 2022 and decided to aim for achieving carbon neutrality by 2030. To this end, KDDI established a subsidiary for renewable energy business in April 2023 and is transitioning to renewable energy while implementing energy-efficient measures such as automatic control of base stations. KDDI's DX business sector is working to solve social issues, such as inspecting aging social infrastructure with our Smart Drone. KDDI is also aiming to eliminate coverage gaps in Japan through Starlink. Furthermore, KDDI has launched "αU" (alfa U), a metaverse-centric service that utilises new Web 3 technologies. This service is expected to enhance the customer experience and contribute to the creation of a prosperous future society."
Makoto Takahashi, CEO, KDDI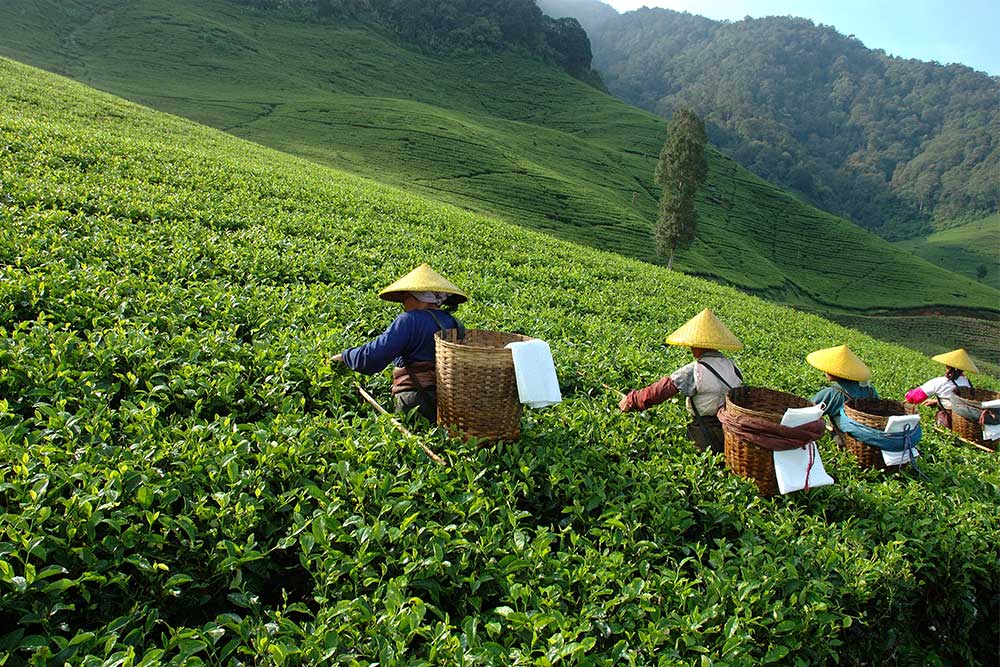 END USER STORY | Mobile money
Patience has found mobile money and mobile internet to be life-changing when it comes to her hair weave business. She is able to order materials online and pay using mobile money which, as well as being convenient, has also enabled her to save up the money she no longer needs to spend on bus fares. Patience advertises her hair weaves on Facebook and her customers pay her through mobile money.
I advertise my product through social media channels like WhatsApp and Facebook. I use mobile money to do every transaction that I do. So mobile money is really helping my business and it's making my life and that of my family so simple. My dream for the future is to expand my business. I think with the help of mobile money I will be able to get there."
END USER STORY | Mobile internet
Mobile internet has had a hugely positive impact on Fridah's life as a farmer by connecting her to the rest of the world. During the rainy season, Fridah uses a weather app to tell her when she should leave her maize and sorghum out to dry. She also finds great value in supportive online groups like vet services and pesticide providers.
Here in the rural areas, without internet, you're cut off from the modern world. Access to internet has really helped me as a farmer. If you leave your maize out in the open to dry, you simply refer to a weather app that gives you the precise time of rainfall."
END USER STORY | Mobile internet
Mobile internet has made a huge difference to Florence's life as a farmer. By posting photos to the internet, Florence was able to find help in diagnosing an infestation problem with her crops and was able to order the necessary pesticides. She uses WhatsApp to promote and take orders for her sukuma wiki crop and uses mobile internet to learn about weather patterns.
Life was difficult without the internet, especially when you needed something from a person who was far away. My farm was infested by army worms and they attacked our sorghum and maize. We took pictures and posted them on the internet and we were able to receive pesticides. Internet helped me during the COVID year. One of my children was a student. They received their tests via mobile and were able to participate."
END USER STORY | Mobile internet
Aletcenter first taught herself about bicycles through Google. Having access to this information led to her turning her hobby into a business. Now, by using Facebook, Instagram and Snapchat, Aletcenter is able to list and sell her bicycles to customers, including during the COVID-19 pandemic. And thanks to mobile money, she has been able to take payments online.
COVID-19 has been a great challenge to us because many of us were not able to open our shops. But as for us, we had old stock which we would sell online. We normally post them on Facebook. As for the payments, they have been good because we have been using mobile transactions, mostly M-PESA, which is an awesome way of transacting."
END USER STORY | Mobile internet and mobile money
Valentine creates and sells dolls, wooden statues and raffia bags with raw materials she has bought using mobile money. Despite losing some orders during the Covid-19 lockdowns, she continued to promote her products using the mobile internet and collected payments through mobile money.
The way this lockdown was done gave us a lot of problems, especially for our sales. I started losing lots of customers, but one thing that really saved me was mobile money. They used to order things online, they would then send me money and it would really help me while I was struggling."
END USER STORY | Mobile internet
Tonema uses mobile internet to buy fabric and materials which she uses to create products for her clothing business. Alongside her work, she supports her family by cooking new recipes she's learnt from watching YouTube.
I can reach out to different manufacturers online and place my orders. So I believe mobile internet can play a very important role in realising my dreams and wishes."
END USER STORY | Mobile internet
GSMA Innovation Fund for Mobile Internet Adoption and Digital Inclusion
In this video we hear from some of the end users who are benefitting from these start-ups' incredible projects, whether through increased access to smartphones, relevant products and digital skills, access to quality digital learning products, or help with bringing their small businesses online.
If Ensibuuko hadn't digitised our group, we would lose our savings just like that and if we were not given a smartphone, we wouldn't have access to Ensibuuko's digital loans. Digitalisation opened up my mind to new business ideas. It has exposed me to different apps that I enjoy and I also have access to marketplaces."
MTN launches digital skills academy to boost youth employment